Yes - We are still processing and shipping your online orders.
If you are having any trouble checking out, we would be happy to help!
The quickest way to get support is to fill in this Helpdesk form - it'll allow you to choose from a few options and provide suggestions, enabling us to get you the info you need faster. We try to respond to these queries within 24 hours, Mon-Fri (may be slightly longer on the weekend).
You can also
(When emailing us please include your name, phone number, what kind of device you are using and a brief description of the problem - thanks!)
- We now have a dedicated page explaining refunds
Here are some common problems and potential solutions:
- Paid with Paypal, and haven't received an order confirmation email?
If you received a confirmation email from Paypal, your order has gone through. Currently the lack of an order confirmation email is a known issue and we are working on it. We apologise for the inconvenience. You can also see that your order was confirmed in 2 ways
- on the Order Confirmation page at the end of the checkout process AND
- by going to My Account (under your name in the top left hand corner) and looking for the order in Pending (Pending just means it hasn't shipped yet)
- Can't see your "Reset your password" email? This is a known issue and we are working on it. If you haven't received an email with a reset link within a couple of minutes, please get in touch using one of the methods above (the Helpdesk form is fastest)
- Can't access your account?
You might not have a password set. Try leaving that field blank - you will be prompted to set one if this is the case.
You might not yet have an online account with us. If you signed up in one of our stores, or received one of our email newsletters, you will need to create an online account the first time you make an online purchase from us.
In the checkout, before entering your payment details, you must first select a shipping address. If you don't already have a shipping address saved, you must create and save one. After that, you need to select shipping method.
We accept Visa, Mastercard, Amex and Paypal as payment methods. "Account" is for organisations such as schools.
- Can't see the Country Drop-Down menu when checking out? This has been experienced by some customers using Safari. When they switch to using the Chrome browser they are able to proceed. If you have this problem, try using another browser.
*There are some known issues with using the website on an Ipad. If you're on an Ipad, please try using a desktop computer or give us a call and we'll help you out.
Creating an account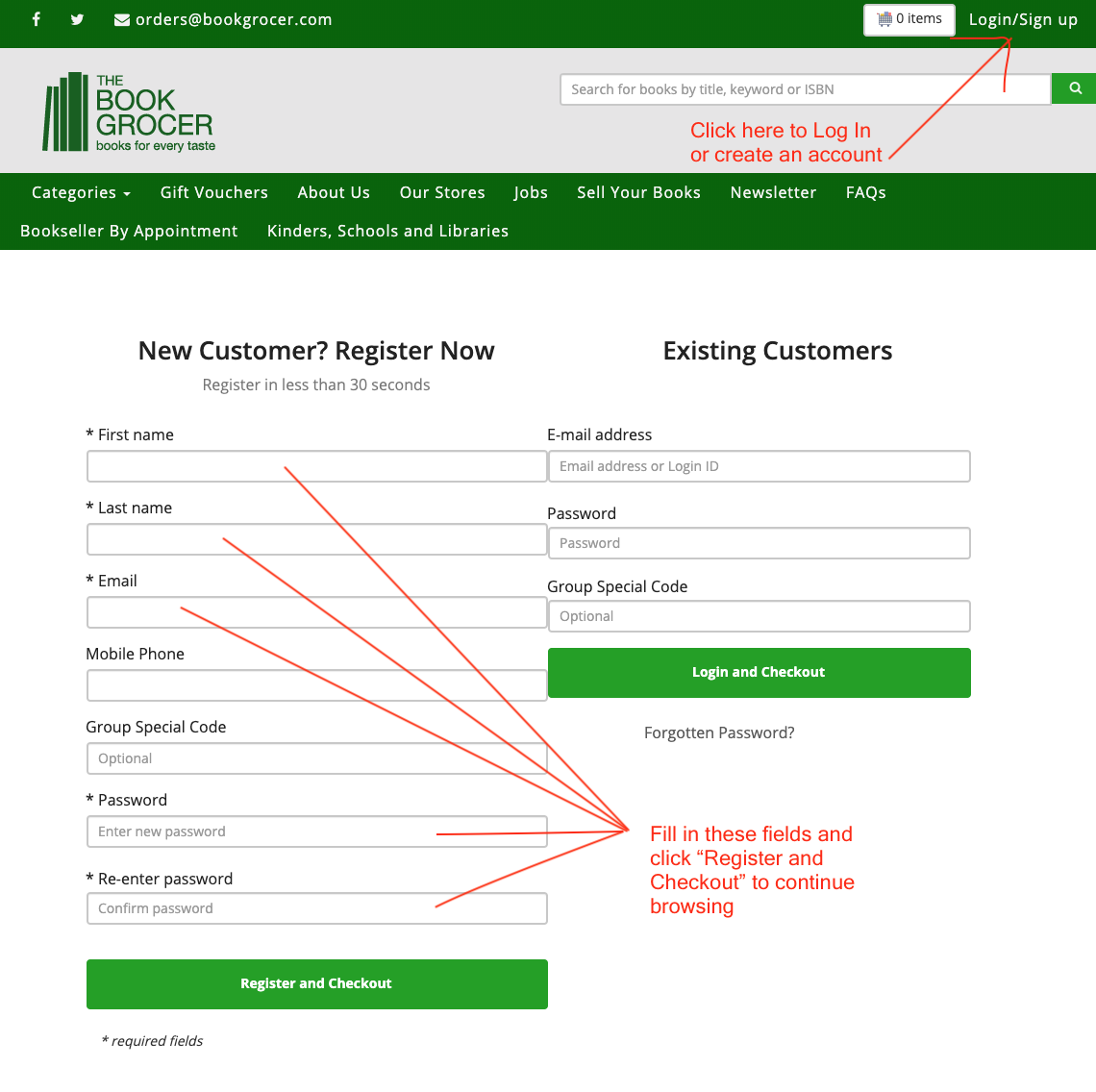 Adding a shipping address before proceeding to payment (even if you selected Instore Pickup, you still need this)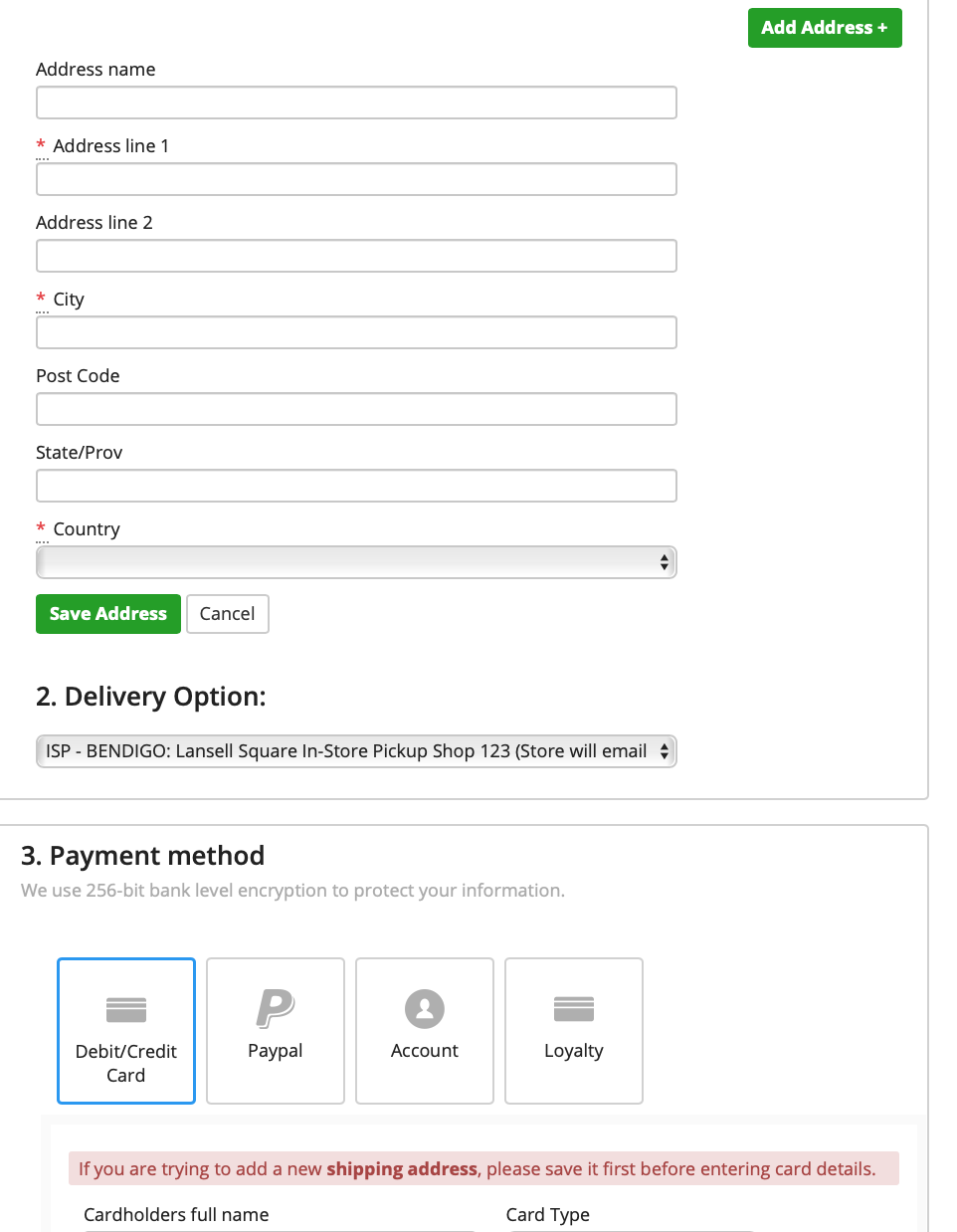 I have a Discount Code. Where do I enter it?
Discount Codes need to be entered at login, not checkout.
Enter your Discount Code in "Group Special Code" per the below picture, whether you are creating an account for the first time, or logging in again. You need to enter this code when you log in.
The discount sometimes does not appear on the home page (Carousel) - try clicking a book or two and see if the discount is there.
If you don't see the discount applied to all the books, log out and try logging in again ensuring you enter your code in the Group Special Code field. If you get an incorrect password message, try logging in by entering your email address and leaving the password field blank. You'll be prompted to update your password (this means it did not save correctly when you set the account up). Once you've done this, you should be able to log in using the Code.
How do I use my Gift Voucher or Gift Card online?
We currently do not offer Gift Card or Voucher redemption through the checkout. However we are happy to offer a workaround!
If you have a Book Grocer Gift Card (credit card sized) and you wish to use it online OR if you have a $10 voucher provided by Collect or Marsello (our instore Rewards program) please take the following steps
1. Place your order as usual and pay in full.
2. Fill in this Helpdesk form including
- your Order Number
- whether the card is an emailed "Rewards" code from our instore program or a green Gift Card
- the full code number for either
We will find it in our system and process a refund to your credit card for that amount.
How do I pay with Online Loyalty Dollars (and Instore Rewards Points)
We have 2 different systems for accruing Loyalty/Rewards at the Book Grocer.
Your in-store purchases accrue Rewards Points (powered by Collect): Spend $200 in store and you'll receive a $10 voucher to use in-store. They cannot be used online. Staff will help you redeem these points and you can also receive updates emailed to you.
Online purchases accrue Loyalty $$$ at the same rate (5%): These can be used online as soon as they accrue (you don't need to wait to reach a certain amount). They cannot be used in-store.
To check and make use of your Online Loyalty balance, go to your Shopping Cart on the website. Click "Proceed to Checkout". If you have any Loyalty $$$ ready to use, Loyalty will appear as an available payment method along with the balance you have available. Enter the amount you wish to use and "Add". Check the balance remaining - it should be reduced by that amount. Pay the remaining amount by credit card. Send us an email if you experience any issues with this.